Most people are familiar with camellias as garden shrubs, but did you know that there are a number of other unusual and creative ways that you can use camellias to add colour and interest to your garden?
ESPALIER:
Espalier is a horticultural term derived from the French word for trellis, and is used to describe a plant that has been trained to grow flat against a trellis or wall. When selecting a plant for use as an espalier, look for one with open, sprawling growth and several leading branches. Plant the camellia against the wall or trellis, then tie the branches back in the desired position using soft plastic ties or twine – don't use wire as it can cut into the branches. Prune off any unnecessary growth, training the leaders to grow horizontally or at an angle, with the best displays generally being symmetrical. Try to keep any major pruning until after flowering and your espalier will reward you year after year with a display of flowers that will always be in clear view. Most sasanqua varieties are suitable, although any camellia can be trained as an espalier. For best results try 'Fukuzutsumi', a heavily scented white-shaded rose-pink, or 'Plantation Pink', which has large single pink blooms.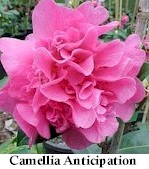 STANDARDS
Standard camellias can be used to make a very striking visual impact. Their dark green foliage looks great even when the plant isn't in flower, and when it is the effect is simply breathtaking! The thing to look for when selecting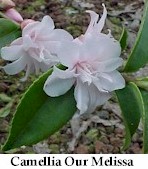 a plant to make into a standard is a fast growing variety with a single, strong and straight stem. Trim the branches to the desired height, leaving enough growth at the top to trim to a balanced, attractive ball or dome shape. Reticulatas, because of their fast growth, are ideal to make into taller standards, although the smaller leaves of sasanquas can also be trimmed tighter to give a more pleasing display. Standard camellias look great alongside paths, or when planted in tubs on decking and patios. Good varieties to use are 'Anticipation', or the reticulata varieties 'Barbara Clark', a rose-pink semi-double with strong upright growth, or 'Brian', a similar variety with medium pink blooms.
Varieties with loose sprawling habits such as 'Our Melissa' are sometimes grafted onto taller rootstock to create a weeping standard effect.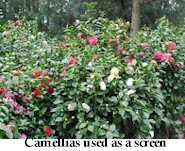 CAMELLIA HEDGES:
Camellias offer the perfect solution when it comes to screening ugly fences or buildings, or for blocking out your neighbours. Sasanqua camellias are best for creating neat, clipped hedges because of their compact growth, whilst japonicas will give a more open screen. All varieties prefer a bit of light to be available to the centre of the plant to perform at their best, so it's better to grow them in a more open style than traditional tightly trimmed hedges. Plant each camellia about a metre apart, water in well and fertilise with a slow release fertiliser such as osmocote. Mixed hedges of japonicas and sasanquas can also be planted to prolong the flowering period, so long as varieties selected are similar in growth habits. If you're after a full flowering hedge effect it's best to stick to the one variety, and choose plants that are all fairly uniform in size and development.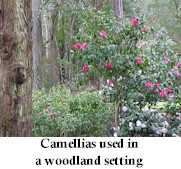 Excellent varieties for hedging include 'Anticipation', which is a deep rose flowered Camellia X williamsii hybrid, or the sasanqua varieties 'Bonanza', and 'Yuletide'.
WOODLAND PLANTING:
In larger gardens, one dramatic way to use camellias is to scatter them amongst trees such as oaks and elms, along with rhododendrons and azaleas to create a natural woodland look. Because they all like similar soil conditions and all grow well in dappled shade, they will happily spread amongst the tree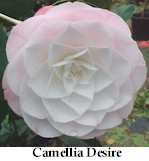 trunks. Avoid placing the camellias in full shade though, as they will not produce much in the way of flower buds. Japonicas and reticulatas are the best types to use here,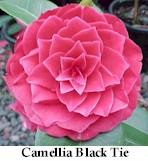 and red flowered forms such as 'Black Tie', or brilliant whites such as 'Desire' will give the most striking visual effects.
GROUNDCOVERS & CONTAINERS
Although Camellias are usually large bushy shrubs, there are several varieties with sprawling growth habits that are ideal for use as groundcovers. One of the best examples of this is 'Our Melissa', which has pale pink flowers held in profusion, all the way along its sprawling stems. Slow growing varieties such as this also look great in large hanging baskets and planter pots, where they can weep over the edges and provide beautiful eye-level displays.
Melbourne's best value Mondo grass! 4" pots chock-a-block full of mondo grass only $2.75!!

Mondo Borders
Throw Away The Shears!