Home
› Bare Rooted English Box Size B
Bare Rooted English Box Size B
Buxus sempervirens
English Box is Melbourne's favourite low growing formal hedge. However an English Box hedge can be expensive, as 5 plants per metre are needed and often they don't come cheap! But in winter we sell cheap English Box in a bare rooted form, making it easy to start a classic hedge or plant sculpture. Cheaper plants also means you can choose a larger size and establish an English Box hedge faster than usual.
These are approximately 20cm tall bare rooted plants.
Product Description
2015 Bare Rooted English Box Size Chart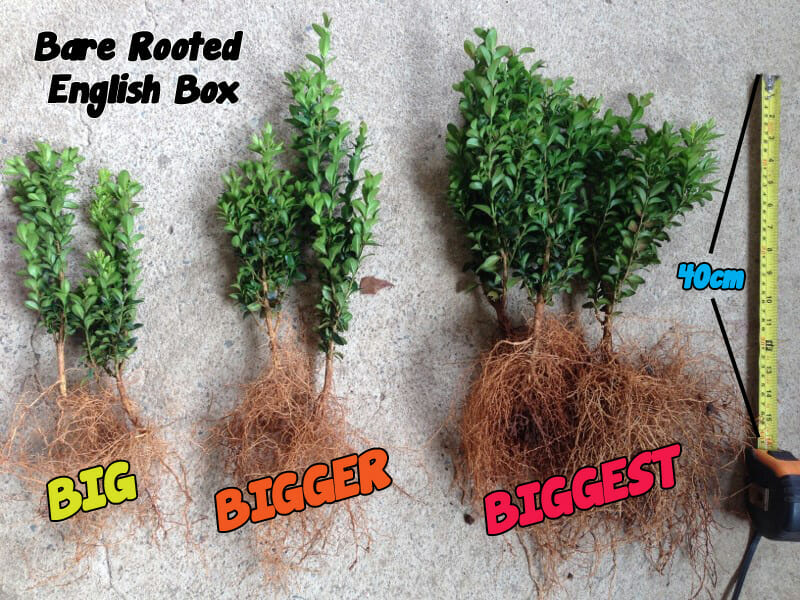 Growing English Box
English Box grows in full sun through to the very deepest shade. In fact English Box will grow with no direct sunlight. English Box is the best of the low borders when you have a border that is partly in full sun and partly in deep shade.
For perfect English Box borders and hedges, we recommend a spacing of 5 plants per metre. The secret to making perfect English Box borders and hedges is to space your English Box closely.
Often people plant their English Box too far apart and they take forever to fill in. English Box tend to shoot upward instead of outward when they are younger. If English Box is spaced too far apart there will be upside down 'U' shaped gaps at the bottom of the hedge. One old English gardening book said to plant English Box 1 inch apart. At Chris & Marie's Plant Farms we have found over the years that planting English Box at the rate of 5 per metre will create a dense bushy border in just a few years without making it unnecessarily expensive to establish a border.
For more information, visit our English Box Factsheet.
Additional Information
| | |
| --- | --- |
| botanical-name | Buxus sempervirens |
| height-x-width | Up to 1.2 metres, or trimmed lower |
| planting-distance | For border: 5 per metre For low border, 3 or 4 per metre For taller hedge |
| features | Traditional slower growing neat hedge or border with glossy oval dark green leaves |
| conditions | Full sun to part shade, moist well drained soil |
| landscape-use | Hedges, borders, topiary, mazes, containers and general garden planting |
Browse plants by…
Search Products