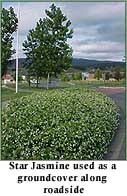 Star Jasmine can be used as a ground cover it thrives in full sun or shade and
does well under trees. In Southern California Star Jasmine is a popular groundcover and some gardens consist entirely of trees and shrubs underplanted with a vast lawn of Star Jasmine.

Star Jasmine can be used to create a thick groundcover on fences and walls, it is great because it doesn't become to rampant and it tends to keep a vegetative cover right to the ground where a lot of climbers only provide cover at the top of the fence.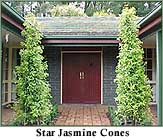 Star Jasmine is wonderful to grow over a frame in a pot and clip into a formal topiary style shape. So as not to lose all the fragrant summer flowers be sure to clip immediately after flowering as the flowers form on the new growth.
As a summer fragrant special