Archive for July 2020 | Monthly archive page
Comments Off

on Conifer Garden Style: Pines, Cedars and companion plants
Conifers are a versatile and attractive addition to any landscape. They can easily transform an ordinary garden into a modern looking one when planted in the right combination with other plants. Here are some excellent uses of Conifers: Privacy – Being evergreen, they make great outdoor privacy screens year-round. You can choose tall-growing ones or […]
Want to Ask the Tutu Guru?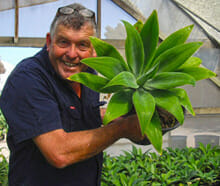 Simply visit our
Contact page
and submit your garden or plant question.
Recent Posts

Grower Clearance Sale!
January 20, 2021

Hello Hello 2021! January in the Garden!
January 12, 2021

December in the Garden!
December 4, 2020

Christmas Trees Selection!
December 2, 2020

African Daisy Selection!
November 26, 2020