Choosing the right border
Mini mondo is a dwarf border that never grows taller than 10cm. It spreads quickly and forms a very dense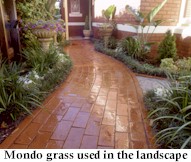 slightly curly looking rich green border which will never grow taller than 10cm. The mini mondo can be planted in front of a low hedge to create a layered effect or planted as a border around low growing plants that you don't wish to have dwarfed by your border.

Tall mondo grass is a finer straighter leaved mondo than the mini mondo which grows to a maximum height of 30cm. It spreads very quickly and forms a dense evergreen border with a soft look that goes with anything from a cottage garden to a lush tropical garden full of palms & birds of paradise to a formal garden or a contemporary modern landscape.

Bongo Borders® Liriope borders grow to a maximum height of 90cm. Their rich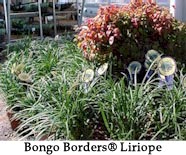 green strap like leaves form a very full and attractive border which spread quickly and give the feeling of luxuriance. Bongo Borders® Liriope goes well with all kinds of garden styles. Use it as a tall to medium border in a series of layered borders.
Tall mondo grass works well in conjunction with Bongo Borders® Liriope as it grows to about 30% as tall as the Bongo Borders® Liriope and has a contrasting texture.
Mondo Grass and Bongo Borders® Liriope - Roll in the modern landscape
As groundcovers around trees and buildings
Choosing a groundcover to go under trees can be tricky as one side of the tree will be shady and the other side can be hot and sunny. Mondo grass and Bongo Borders® Liriope thrive in sun or shade and can create a wonderful evergreen groundcover. By choosing between mini mondo (10cm tall), tall mondo (30cm tall) and Bongo Borders® Liriope (80cm tall) you can choose the groundcover that will grow to the correct height to form a rich green display that looks good all year round. For an informal groundcover look try planting tall mondo grass with a few Bongo Borders® Liriope scattered throughout to create contrast and texture.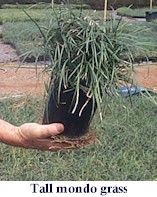 Creating a central feature
When you are planing your garden to include a large rock statue, a water feature or a feature tree, you may want these features to really stand out and make an important statement in your garden design. Planting flowers lessen the significance of a feature as the flowers may compete with the feature, when in flower, and detract when not in flower. Mondo grass and Bongo Borders® Liriope are ideal border plants to plant around features as they don't detract from your feature. With Mondo grass and Bongo Borders® Liriope you can choose the height of the border required and have an evergreen contrast in terms of height that will compliment any garden feature and not compete or detract from that feature.
Pots and Planters
When you plant a palm or a topiary in a pot it can look a little plain. Mondo grass can provide the perfect lush evergreen groundcover for any pot plant as it is hardy and can outlast whatever you plant with it. Plant mini mondo around small plants and tall mondo in large pots and planters.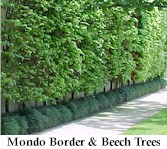 Plant mondo grass or Bongo Borders® Liriope in pot plants. It's simple and easy to do and looks beautiful on steps and patios. Tall mondo grass and Bongo Borders® Liriope can look great planted in rectangular window boxes and planters, to formal borders outdoors and dividers for outdoor living areas.
The perfect filler
Mondo grass and Bongo Borders® Liriope can be used as attractive evergreen fillers as they grow well under and around other plants. When you look at a garden bed that looks a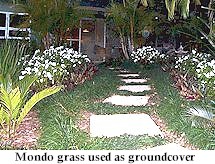 bit empty, its full of shrubs and trees that have grown up and left the ground level empty and bare Mondo Grass or Bongo Borders® Liriope are the ideal plants to fill these spaces. Choose the height of the filler that would be in proportion with the types of plants you are inderplanting with.
Bongo Borders® Liriope looks great interplanted with trees and shrubs with tall trunks. Tall mondo grass looks great around medium sized shrubs and foliage plants & the mini mondo grass compliments groundcovers and small plants. You can plant combinations of mini mondo grass and tall mondo grass or tall mondo grass and Bongo Borders® Liriope. Mini mondo grass tends to look too small when planted with Bongo Borders® Liriope and all three planted together can look a bit busy.

Warning!!
Bongo Borders® Liriope and mondo grass can be addictive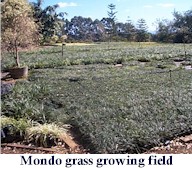 At Chris & Marie's Plant Farms we have subcontracted growers producing mondo grass and Bongo Borders® Liriope in large numbers so that we can sell them cheaply. Most nurserys sell mondo grass and Bongo Borders® Liriope with only a few eyes in each pot. At Chris & Marie's Plant Farms we have

3

" pots chocka block full of mini mondo grass for only $

3.00

each, 4 for $11.00 or 20 for 49.90

and 4" pots of Bongo Borders® Liriope for $4.50.

We are the first nursery to make mass plantings of mondo grass and Bongo Borders® Liriope available at good prices. What we have found is that once you come out and buy a few trays of Bongo Borders® Liriope and mondo grass and see how good they look in your garden you'll be back again and again. One of my mates has been going crook at me because his wife has been in three times in the last three weeks for mondo grass and Bongo Borders® Liriope, she keeps finding places in the garden to plant more!

At Chris & Marie's Plant Farms we have 3" pots of mini or tall mondo grass for only $3.00 each, 4 for $11.00 or 20 for 49.90.
4" pots of Bongo Borders® Liriope for only $4.50 each and 8" pots only $14.50