Bulbs
Springtime is when you reap the rewards of your hours of hard labour in the garden as it comes to life. Bulbs that were carefully planted in autumn start to show off their dazzling display of colours, shapes and fragrances.
Brightly coloured tulips adorn parks and gardens everywhere, sweetly scented jonquils, freesias and hyacinths are dotted amongst paths and rockeries and snowdrops, ranunculus and daffodils provide splashes of colour around trees and shrubs throughout the garden.
Using Spring Bulbs
Spring flowering bulbs can be used in a number of ways; depending on the effect you want to create. Bold coloured flowers such as tulips and daffodils make a dramatic statement when mass planted, like those you see at Tesselaar's tulip festival or Floriade in Canberra, but they can be just as effective in a home garden on a smaller scale when planted in large clumps or rows. Daffodils, jonquils, freesias and snowdropscan be used to create an 'English Garden' look along driveways or around trees when the clumps are left to naturalise amongst the grass. Ranunculus and anemones are suitable for bedding displays, while smaller flowers such as grape hyacinths make dainty borders for garden beds. Fragrant flowers such as freesias and hyacinths can be used near paths and doorways as natural air fresheners, and tulips, hyacinths and daffodils planted in pots can be used to brighten up patios or windowsills. When it comes to using bulbs in the garden, the possibilities are endless.
Tulips
Tulips are well known and loved for their vibrant colours that make such eye-catching displays in raised beds and tubs. They are also popular as pot plants, on windowsills and table settings.
Growing tulips is easy and fun, and it only takes a little bit of effort to produce a fabulous display each year. Tulip bulbs need to be placed in the crisper of your fridge for 4 weeks before planting. This cold treatment is part of their natural development process, as tulips originate from climates where the ground is frozen for part of the year. After this, plant them in late autumn in a sunny position in a well-drained, rich soil. Water them well during the flowering season and remove any spent flowers, letting the leaves die down naturally to replenish the bulbs' energy for next season. Once the leaves have died down you can lift the bulbs and store them in a cool, dry place over the summer before they go back into the fridge for next season.
Popular varieties of Tulips include Yokahama, which has golden yellow flowers on strong stems, Ile de France which has beautiful blood red blooms, the very attractive dark purple variety Negrita and the later flowering pink variety Ganders Rhapsody. One particularly striking variety is Adrem, which has soft orange blooms edged with bright yellow and makes an excellent potted specimen.
Daffodils & Jonquils
Daffodils and jonquils are among the most popular spring flowering bulbs, with hundreds of different colours and forms available. They are very versatile and can be used massed in displays, as filler plants amongst garden beds and rockeries or in window boxes and tubs on patios. They like a sunny position in well-drained soils, and if left undisturbed will multiply freely to form large clumps. It is best to lift them every few years and divide them in late autumn to avoid overcrowding & shy flowering.
Water well during flowering, and allow them to dry out once the leaves die down completely. Fertilise with blood and bone or a specially formulated bulb fertiliser before and after flowering.
The most well known daffodils are the large yellow trumpet varieties. This includes the old favourite King Alfred, which is a beautiful variety commonly seen in older style gardens. There are pink and orange cup daffodils like Coral Blush which has elegant straight trumpets of pink and Red Letter Day with golden yellow petals with an orange trumpet. Other types of Daffodils also include flat cups such as John Willis, a graceful flower with round white petals and a flat citrus lemon center edged white and lightly ruffled, and double flowering varieties such as white flowering Ice King. Perhaps the most unusual of them all is the split corona types like Pickup which has pure white petals and a deep orange split cup which matures to a dazzling red.
Jonquil varieties are characterised by their small prolific flower heads and a beautiful perfume. Popular varieties include Erlicheer, a double creamy white form and the delightful Grand Monarch which has white petals and yellow cups.
Hyacinths & Bluebells
Sweet smelling hyacinths come in a range of colours from deep reds through to pinks, purples, whites, blues and yellows, and make ideal garden or container plants. They are best planted close to paths or doorways, or in pots that can be brought inside to let their perfume be fully appreciated. Hyacinths prefer to be a little on the dry side while growing, with just enough water to stop them drying out. They like full sun but not where they are likely to get too hot. Although hyacinths can be left to flower again in the following season, the results each year are likely to be less reliable. The best way to treat them is replace the bulbs each year with fresh ones, to ensure prolific flowering displays.
The most popular varieties of hyacinths are Pink Fondant, a highly perfumed variety and white pearl. Other more unusual colours include the yellow Gipsy Princess, the deep wine red variety Jan Bos, and the autumn shades of Gipsy Queen.
Bluebells, on the other hand prefer moist soils in partly shaded positions and love plenty of water during flowering. They too are useful border and rockery plants, and look right at home in a cottage garden setting. Bluebells can be left undisturbed for a few years, after which they should be lifted and divided to avoid overcrowding.
Ranunculus & Anemones
Very popular with gardeners because of their prolific displays of bright coloured flowers. Ranunculus and anemones look fantastic when grown in mass plantings or as borders or in window boxes and tubs. They are excellent rockery plants and are perfect for cut flowers.
They are usually treated as annuals and it is important when you plant them to make sure that their claws face downwards.
Keep them well fed and watered during the flowering season and they will reward you with a beautiful late winter-early spring display.
Irises
Everybody who has ever set foot inside a florist's shop will know how useful irises are in providing colour and style to flower arrangements. Beautiful colored flowers appear amongst bright green strap-like leaves, and the plants make excellent borders and potted plants. The purple and blue colours of the irises contrast wonderfully with bright yellow flowers such as daffodils and yellow tulips, and can be used together to create spectacular effects along paths and driveways.
Irises are frost hardy and do best in a sunny, well-drained position.
Bulbs, bulbs and more bulbs
Lots of other varieties of spring flowering bulbs are available to help make your garden a work of art. Grape hyacinths are dainty little plants with blue hyacinth like flowers that make ideal border or rockery plants. Grow them in a cool sunny or partly shaded position, and leave to naturalise.
Freesias are another popular bulb with an unmistakable perfume that can also be left to naturalise. They are available in a wide range of colours, and are best used in areas where their scent can be appreciated, such as near paths, windows and doorways. Snowdrops have lovely white perfumed flowers with touches of green on the petals, and make great borders and rockery plants. They too can be left to naturalise, and along with bluebells and daffodils can be used around deciduous trees like birches to create a natural woodland look.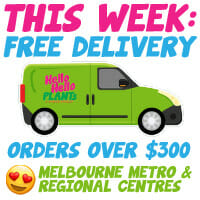 Search Articles