Rhododendrons
One of the all time favourite plants that gardeners enjoy the world over is the Rhododendron. When you've seen one in full flower it's not too hard to understand why. At a time of year when most other plants look drab and dreary, rhododendrons are bursting into spectacular colour, with giant bunches of beautiful flowers in pinks, reds, purples whites and yellows. Rhododendrons have been crossbred over many years to produce the hundreds of different varieties available today, including many cultivars that are heat tolerant.
Rhododendrons have a compact root ball of very fine hair-like roots that makes them ideal for use in containers or around buildings. They look superb in an open garden setting as specimen plants, and when used in a woodland planting. Because of their fine feeding roots, they require plenty of moisture in a well-drained, open soil that has been enriched with lots of organic material, like well-rotted compost. Heavily compacted soil must be broken up well before planting, and the addition of mulch around the base of the plant will help to retain moisture. Most varieties prefer dappled shade although some Rhododendrons, such as 'Sir Robert Peel' will perform wonderfully in full sun. We can order in a large selection of Rhododendrons in a wide range of flower colours to suit every garden situation.
Using Rhododendrons in the Garden
There are a number of different ways in which Rhododendrons can be used in the garden, with the most popular of course being as a specimen plant. Choosing a variety is as simple as deciding what colour you want, how high you want the plant to grow, and how much light is available, bearing in mind that although many varieties like dappled shade, fully shaded areas will reduce flower quantities. If the area is in full sun, make sure you select a heat tolerant species, and mulch the ground around the plant to retain moisture. By choosing a mixture of colours and flowering times, you can maintain interest in the garden over a long period of time.
Popular varieties to use as specimen plants include 'Fire Prince', a cultivar produced by local Rhododendron guru Karel Van de Van, which has brilliant red tubular flowers, 'President Roosevelt', with its unusual golden-variegated leaves and bright red and white blooms, and of course 'Sir Robert Peel', an early flowering variety that produces outstanding displays of deep pink flowers and is extremely hardy.
Because they enjoy the same conditions as azaleas and camellias, and flower at similar times, Rhododendrons can also be used as a massed display, and in larger gardens can be interspersed among trees to create a natural 'woodland' setting. Smaller varieties of Rhododendron are great to plant in tubs to colour up a patio or decking area. Varieties such as the dark purple flowered 'Purple Splendour' or the dainty yellow 'Eldorado' are good choices.
Blue Crown

Dark pink Ross Maude

Freckles Pink

Eldorado

Ross Maude

Purple

Yellow

President Roosevelt

Yellow Vireya

Apricot Vireya

Pink

Red

White

Maria's Choice!!!
 NEW RELEASE: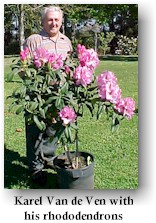 Karel Van de Ven's
"MARIA'S CHOICE"
Maria's Choice is a medium sized, medium to late flowering variety with yellow to cream blooms, and is a very prolific flowerer, even on young bushes.
It has attractive flower-buds, and an upright, bushy habit and prefers a partly shaded position.
The Karel Van De Ven collection
Whilst most Rhododendrons are stunning, there aren't enough words in the English language to describe the beauty of the varieties bred by local grower Karel Van de Ven. Karel has been producing Rhododendron hybrids for more than twenty years from his home in the Dandenongs, as well as the spectacular grafted standard azaleas that you may have seen. In that time he has developed some truly beautiful rhododendrons, which flower prolifically and are the ideal choice if you really want a plant that's unique. Although they are a few dollars more than normal rhododendrons, a Karel Van de Ven rhodo is certainly worth every cent. His collection contains plants in all colours, most of them flowering a little later than other varieties, with the majority being of medium size with vigorous, upright growth.
These varieties are available on an order-in basis. Please note that as these varieties are not always available, plants may take 1-2 weeks to acquire.
The Karel Van De Ven Collection

Available Pot Sizes

Variety

Description

Height

Flowering Season

6″

8″

10″

Apricot Gold

Medium, gold trusses
Medium – Tall
Mid – Late

No

Yes

No

Australian Cameo

Apricot Pink
Medium
Mid – Late

Yes

Yes

No

Australian Celebration

Pale yellow to cream
Medium
Mid – Late

Yes

Yes

No

Australian Rainbow

Florets rich pink fading to white throat
Medium
Mid – Late

No

Yes

No

Australian Sunset

Orange frill with yellow centre
Medium
Mid – Late

Yes

Yes

No

Bloodline

Red tubular flowers
Medium
Early – Mid

Only available in 7″ pot.

Blue Crown

Blue purple with black blotch
Medium
Mid – Late

Yes

Yes

No

Caramel Coffee

Yellow to light orange, speckled throat
Medium – Tall
Mid – Late

Yes

Yes

Yes

Cormid

Light mauve, green centre
Medium – Tall
Mid – Late

No

Yes

No

Crinkles

Reddish with a purple blotch
Medium
Mid season

Yes

Yes

No

Cup Day

Tyrian rose, heavily spotted crimson
Medium – Tall
Late

Yes

Yes

No

Empire Silver

Light pink
Medium
Late

Yes

No

No

Fire Prince

Blood red
Medium
Early

No

No

Yes

Fire Walk

Turkey red
Medium
Mid season

Yes

Yes

No

Forest Flame

Currant red, medium trusses
Medium
Mid season

Yes

Yes

No

Lighthouse

Tall, compact trusses of brilliant red
Medium
Early – Mid

Yes

Yes

No

Maria's Choice

Pale yellow to cream
Medium
Mid – Late

Yes

Yes

Yes

Midnight

Big trusses of purple, magenta throat
Medium – Tall
Late

Yes

Yes

Yes

Nightwatch

Deep mauve with darker center
Medium
Late

Yes

Yes

Yes

Purple Gown

Purple-red, deep purplish red blotch
Small – Medium
Mid season

No

Yes

No

Sir Robert Menzies

Bright red medium trusses
Medium
Early

Yes

Yes

Yes

Snow Peak

Large white, red eye
Medium
Mid season

No

Yes

No

Thrills

White, red margin
Medium
Late

Only available in 7″ pot.

Wedding Gown

Loose trusses of white, yellow centre
Medium
Mid season

Yes

Yes

No

White Flare

Hardy grower, white with green throat
Small
Mid season

Yes

Yes

No

Yak. X Eriogynum

Pink
Medium
Mid season

Only available in 7″ pot.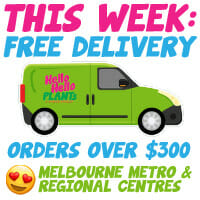 Search Articles