English Box – Going By The Hundreds
We're selling 6″ potted English Box for $3.99 at the rate of hundreds per day as our retail price is below the cost of Melbourne Wholesalers who are selling them for $4.30ea and then adding 10% GST at the register!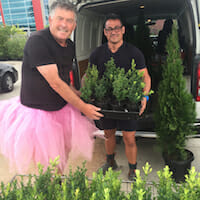 Big and sexy for $3.99 each (that's the English Box, not Chris!)
Customers come from all over Melbourne and Victoria to load up their van's and ute's with our English Box.
Sebsastian (pictured with our fairy!) was delighted with the size and quality of his 100 English Box he purchased the other day.  One customer came in last week and demanded a cheaper price.  Chris said that our prices are cheaper and bigger than the wholesalers.  The customer left immediately to go to the wholesaler and then returned soon after and purchased our English Box!