Modern Landscape
Nowadays as we are becoming more water conscious, and with the memory of water restrictions not very far behind us, an exciting trend of gardening and landscape design has evolved. It includes an array of many colorful and unique sculptured plants from Yucca's and Cordylines of different sizes, shapes and colors, to a large assortment of flaxes and ornamental grasses in pinks, purples, yellows, greens, silvers, bronzes, black and variegated, to many of our own beautiful native grasses and a huge unique variety of succulent plants large and small.
When these varieties of plants are integrated together in the landscape, planted in mass groups or put into pots and planters they give a very bold stylish contrast of colors format and design. Not only are these plants becoming popular for their beautiful looks, but also for their ability to handle hot, dry and drought conditions and require minimal watering.
No products were found matching your selection.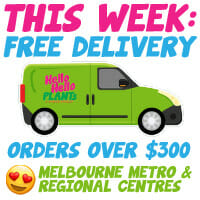 Browse plants by…
Search Products