Potted
The Potted garden can be used for many different circumstances. They can give life to a high-rise building or flat with nothing but a balcony, add some color to the patio or fragrance by the front door, a touch of class can be added to a small courtyard with some large pots, they can be used indoors at the home or office, in window boxes, hanging baskets and aquariums.
There is a large range of plants and styles for every potted purpose, from herbs, fruits and veggies for cooking, and many ornamentals from foliage plants, flowering shrubs, annuals, topiaries, palms, succulents and cacti. The possibilities are endless: a mix of herbs in one pot, a topiary with annuals at the base, a citrus tree or palm. We have found that fewer large pots with multiple planting is easier to maintain and more spectacular that the clutter of many pots.
When planting into pots, it is very important that a high quality potting mix is used. We recommend Devotion Premium Potting Mix along with a soil wetter, and for maximum growth and health the plants should be fertilized every 3 months with Devotion Time Release Fertilizer.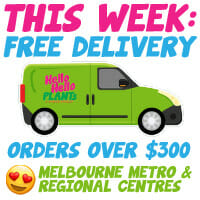 Browse plants by…
Price Range
Pruning Frequency
Search Products