We're clearing out 20,000 English Box in 6" pots that are 10″ to 15" inches tall for only $3.49 each! You don't have to buy 100, you don't have to buy 50, you don't even have to buy 10! Come in and buy 1 to get this spectacular price! It's about a 3rd of what you would pay at your local nursery, and about half what you would pay at the big stores, it's really really cheap.
The reason is, that a mate of Chris has asked him to clear out his whole paddock. As this is the potting season, he has a fresh crop and is ready to clear out the old crop to make way for his new crop. And these are bigger then normal in a 6" pot! You'll never get bigger better English Box for the same price ever again, come in and get them!
Big Bushy English Box in 6" pots only $3.49 each – BUY HERE
Call: (03) 9359 3331
Visit: 1477 Sydney Rd Campbellfield
Shop: www.hellohelloplants.com.au
Silver Birch, the versatile landscape beauty!
In 8" pots from only $19.99 each!!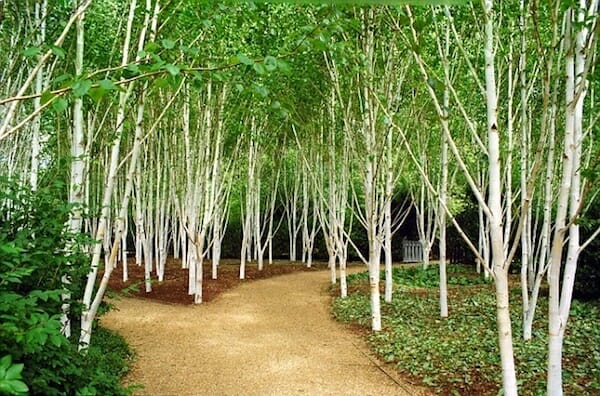 The Silver Birch is a small growing attractive tree that fits in any garden. Plant a little copse, a clump or a screen! Silver Birches look great in any garden and are easy and fast to grow. Most of all they are affordable! Buy 6ft Silver Birch for $19.90 each and watch them grow to beautiful 5 metre trees in only 2 years with cascading foliage and brilliant white trunks. They will make your property looks a million dollars because although Silver Birch are inexpensive, nothing else looks as classic in the garden."
Silver Birch in 8″ pots at 6ft high are $19.99 each – BUY HERE
Silver Birch in 12″ pots at 8ft high are $79.99 – BUY HERE
6" Bird of Paradise only $9.99 each!!
Bird of Paradise are native to South Africa, and are very hardy and can be grown in full sun to part shade. They get their name from their exotic blue/orange flowers that resemble the head of a colourful tropical bird. Bird of Paradise have large, lush foliage and look great when used in rockeries and interplanted with yuccas and agaves. Great for creating a tropical feel in the garden.
Get beautiful Bird of Paradise in 6" pots for only $9.99 ea
Welcome to the Box Hedge and Border Shop!
!!! BEST BARGAINS !!!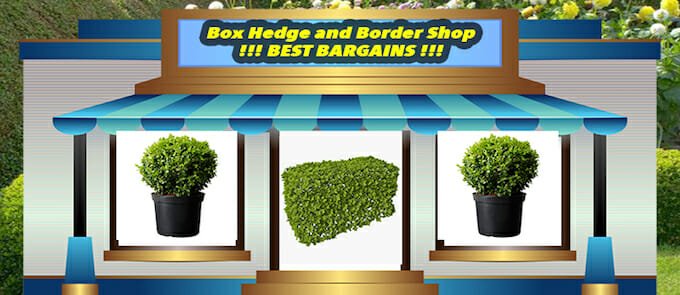 Check out these hot deals that are on sale for a limited time only!
English Box in 3" pots for 99c
English Box in 3" pots for only 99c each – BUY HERE
Box Leaf Privet in 6" pots only $4.99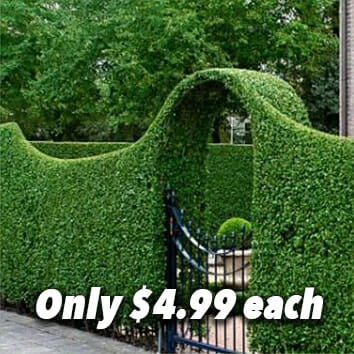 Box Leaf Privet in 6" pots for only $4.99 each – BUY HERE
English Box in 8" pots only $9.99
English Box in 8" pots for only $9.99 each – BUY HERE
English Box in 6" pots only $3.49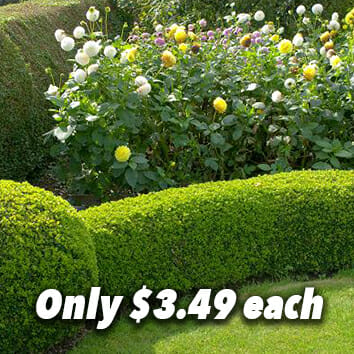 English Box in 6" pots for only $3.49 each – BUY HERE
Green Rocket in 6" pots only $5.99
(when you purchase 100 or more)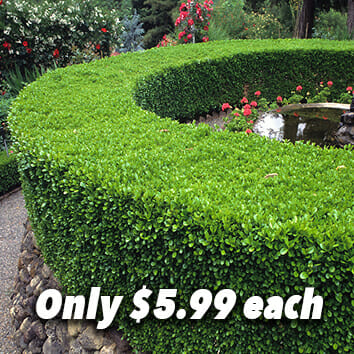 Green Rocket in 6" pots for only $5.99 each
(when you purchase 100 or more) – BUY HERE
Korean Box in 3" pots only $2.49
Korean Box in 3" pots for only $2.49 each – BUY HERE
Dwarf Abelia in 6" pots (seconds) only $4.99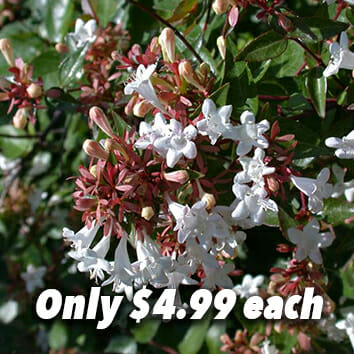 Dwarf Abelia in 6" pots (seconds) for only $4.99 each – BUY HERE
Neighbours Be Gone in 3" pots only $2.99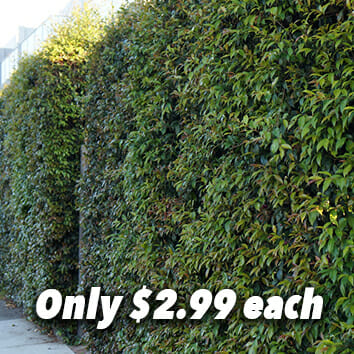 Neighbours Be Gone in 3" pots for only $2.99 each – BUY HERE
Dwarf Nandina in 6" pots only $4.99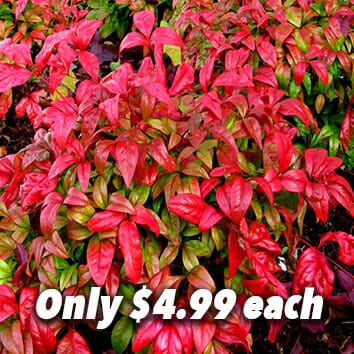 Dwarf Nandina in 6" pots for only $4.99 each – BUY HERE