Acacia 'Lightwood' Wattle 8″ Pot (Freshly Potted)
Acacia implexa
Acacia Lightwood is a vigorous, long-lived, fast growing native Australian Tree. It is one of the largest growing of the wattles, some trees reaching up to 15 meters, and bears pale creamy-yellow flowers in Summer.
Lightwood trees tolerate dryness, frost, and many soil conditions. Great for windbreaks, as a fodder plant, and for timber, which is often used for making furniture. Plant with Acacia Blackwoods, which flower in Winter, for year-round interest.
8″/20cm pot
FRESHLY POTTED – This product has been re-planted into a larger pot as it has outgrown its previous pot. Soil may fall away easily from the root ball when planting but not to worry! Just be delicate with any new roots forming when planting.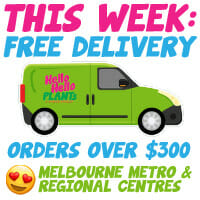 Browse plants by…
Search Products