Agapanthus 'Tall White' 8″ Pot (Freshly Potted)
Agapanthus orientalis
Tall White Agapanthus have long arching foliage with gorgeous tall white flowers that are displayed in the spring and summer. This variety is a perfect plant in times of drought and water restrictions. Thrives in a position of full sun.
Tall White Agapanthus is frost tolerant and requires little water once established. Great as an edging for driveways and fence lines. They are very hardy and tolerant poor quality soil. This variety produces an abundance of bright white flowers making them a fantastic addition to any garden.
7/8″ pot size – These are freshly potted plants grown by division cuttings, not seeds. They will mature alot faster than seed grown, if you are looking to save time buy these! They are currently dormant but will quickly shoot back up soon.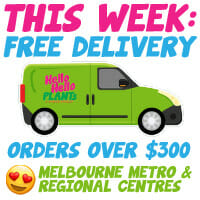 Browse plants by…
Search Products