Callistemon 'Willow Bottlebrush' (White) 45ltr (Eco Grade)
Callistemon salignus Willow Bottlebrush 
Callistemon Willow Bottlebrush is larger than most Callistemon, it produces small creamy-yellow bottlebrush flowers in late winter, followed by vibrant pink new growth in spring.
It tolerates waterlogged and compacted soils and produces an aesthetic weeping form when mature. It also responds readily to pruning as needed. This plant attracts birds.
45ltr Bag
This product is Eco Grade or Imperfect stock. This means it may look a little scrappy, but with some tender loving care it can be returned to its former glory. Not recommended for a novice gardener. Economy items cannot be returned or exchanged.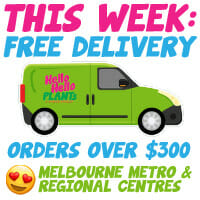 Browse plants by…
Search Products