Canna Lily Cannova Red 6″ Pot
Canna cannova
Cannova Red are a brilliant red variety of Canna Lily. Canna Lilies are lush flowering plants that come in a fantastic range of flower and foliage colour. They look great mass planted and give a tropical feel to the garden, while growing almost anywhere in Australia. The Canna Lily flowers in summer and autumn.
Canna Lilies are hardy once established, with a bulbous root system that stores water for hard times. However they do like rich soil and are happy in boggy wet areas. They have a clumping habit and will multiply over time. Also happy in large pots.
Available online ONLY – Not in store.
6″ pot size.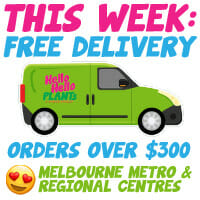 Browse plants by…
Search Products