Canna Lily Yellow 8″ Pot
Canna Lily Yellow
Cannas are vibrant tender perennials that provide a strong ornamental interest and
immediately give a touch of the tropics in the garden or containers.
Their architectural shapes and eye-catching colors make them perfect for
planting as focal plants or massed to create a tropical effect. Easy to grow, they stand proud and bold provided some basic rules are respected. Cannas have been in and out of fashion many times during their long history, and are currently rebounding in popularity.
They are hardy and low maintenance and grow in most areas of Australia. They prefer a sunny position, although the harsh sun may bleach some of the pale flowers. They grow well in moist soil enriched with organic matter such as compost. They can grow upto 1.5m and have big blooms under the right conditions.
8″ pot size.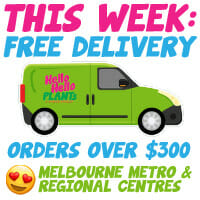 Browse plants by…
Search Products