Lagerstroemia 'Sioux' Crepe Myrtle 13″ Pot (Eco Grade)
Lagerstroemia indica x fauriei 'Sioux' Crepe Myrtle
Sioux Crepe Myrtles are tough, small trees that offer attractive bark, masses of medium musk pink flowers in summer and good yellow-orange autumn colours. One of the most popular hardy small trees around.
Crepe Myrtles are adaptable to most conditions, suitable for small gardens or amenity areas and can be a very effective street tree.
This product is Eco Grade or Imperfect stock. This means it may look a little scrappy, but with some tender loving care it can be returned to its former glory. Not recommended for a novice gardener. Economy items cannot be returned or exchanged.
13" pot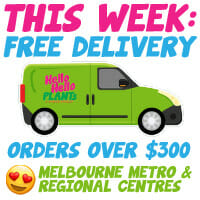 Browse plants by…
Search Products