Debco Mulch 'n' Feed Premium Mulch 30L
Debco Mulch 'n' Feed has been designed for the home gardener who is concerned about water usage in the garden and desires an attractive mulch to complement potted and garden plants.
• Encourages deep root growth through improved soil structure.
• Reduced moisture loss from potting mix and soil surfaces, thus reduced watering requirements.
• Reduces weed growth so you spend less time on garden maintenance.
• Safe for all plant types.
• Easy to spread on the surface or can be dug in as a planting compost.
It contains:
• Debcote – Contolled released fertiliser
• Saturaid – Water maximise for even water penetration and wetting of soil
• Soil Breaking Catalyst – Breaks down clay soil to improve aeration
• Humates – Makes plant nutrients more readily available
30L bag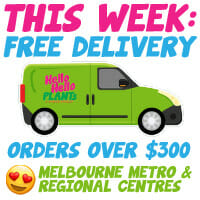 Browse plants by…
Search Products