Eucalyptus 'Little Spotty' Gum 20″ Pot (Eco Grade)
Eucalyptus Mannifera "Little Spotty"
Little Spotty is a small Australian native tree with narrow leaves and a rounded habit. It is noted for its spotted bark and beautiful white flowers that are in bloom from Winter to Summer. Has a fast growth rate, reaching heights of approximately 8 meters.
Little Spotty is best placed in a location of full sunlight and in well drained soil. Drought and frost tolerant. Requires low maintenance and water once established. Ideal as a garden specimen, for parks or a shade tree. Bird attracting.
This product is Eco Grade or Imperfect stock. This means it may look a little scrappy, but with some tender loving care it can be returned to its former glory. Not recommended for a novice gardener. Economy items cannot be returned or exchanged.
20″ pot size.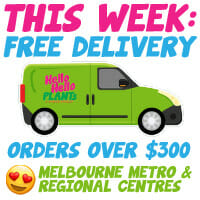 Browse plants by…
Search Products