Feijoa 'Pineapple Guava' 8″ Pot (Eco Grade)
Feijoa sellowiana 
Feijoas are a fairly small evergreen tree with short oval shaped leaves, soft green on top and silvery underneath. Additional to the fruit they yield, they make great specimen trees or can be planted close together for screening and hedging.
Following bright red and white flowers, the Feijoa or Pineapple Guava will produce aromatic fruits around the size of an egg that remain green when ripe. They have perfumed pale cream flesh and their taste is a blend of pineapple and strawberry.
7″/8″ pot size.
This product is Economy Grade/Imperfect stock, which means it's a little bit scrappy, but with some tender loving care it can be returned to it's former glory. Not recommend for a novice gardener. Economy items cannot be returned or exchanged.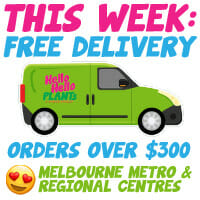 Browse plants by…
Search Products