Fraxinus 'Golden Ash' Tree 45ltr (Eco Grade)
Fraxinus excelsior "Aurea"
The Golden Ash is a medium sized deciduous tree that can grow up to 8m tall and 5m wide. Leaves are vibrant green and turn a classic golden colour in Autumn. This hardy tree has a dense rounded growth habit and is known for its showy creamy white, fragrant flowers produced abundantly in Spring.
Grows best in full sun and well drained soil, but will adapt well to any situation. For an avenue we recommend planting these trees 7m apart or for a screen 3m apart.
This product is Economy Grade/ Imperfect stock, which means it's a little bit scrappy, but with some tender loving care it can be returned to it's former glory. Not recommend for a novice gardener. Economy items cannot be returned or exchanged.
45ltr size.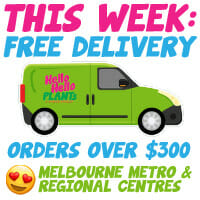 Browse plants by…
Search Products