Gleditsia 'Sunburst' 45L (Eco Grade)
Gleditsia triacanthos x inermis

Gleditsia Sunburst as it's name suggests has bright, yellow-green foliage that will give your garden a lift of colour. It's foliage is delicate and attractive and turns yellow in Autumn before shedding for Winter.
Gelditsia will grow to 8m x 6m (or trim to suit you). It is tolerant to pollution and drought and is low maintenance. A great feature tree which will provide some welcome shade for the Summer.  It would also make an impact planted in rows or clusters.
16″/40cm pot
This product is Economy Grade/ Imperfect stock, which means it's a little bit scrappy, but with some tender loving care it can be returned to it's former glory. Not recommend for a novice gardener. Economy items cannot be returned or exchanged.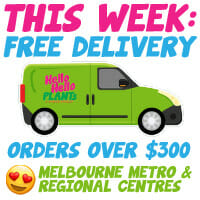 Browse plants by…
Search Products