Leptospermum Tea Tree 'Lemon Scented' 7″ Pot (Eco Grade)
Leptospermum Petersonii "Lemon Scented Tea Tree"
The Lemon Scented Tea Tree is a beautiful Australian native tree with a shrubby habit. Its new foliage is copper/bronze colour. Many small white flowers that decorate the tree in early summer and the leaves have a beautiful citrus scent.
Lemon Scented Tea Trees are not only bird attracting but ideal for tough conditions such as drought or poor soil. A good screening plant.
This product is Eco Grade or Imperfect stock. This means it may look a little scrappy, but with some tender loving care it can be returned to its former glory. Not recommended for a novice gardener. Economy items cannot be returned or exchanged.
7″ pot size.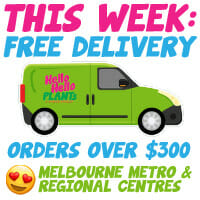 Browse plants by…
Search Products