Mint 'Corsican' 6″ Pot – Bulk Buy 12
Corsican Mint, This is the smallest of all the mint species, native to Corsica, Sardinia, France and mainland Italy. It is a very low growing, spreading herb, only getting to a max of 10cm tall. Due to its low growing habit, it is perfect as a ground cover and when in a favourable position it can withstand some light foot traffic! People often plant it around pavers & stepping stones, or use it to edge walkways. Also a great choice for a rock or alpine garden.
Unlike other mint species, this plant prefers and thrives in shaded areas, and prefers well drained soil with moderate watering. When choosing a spot in your garden for this plant, keep in mind that he is drought sensitive. This mint is one of the best mints to grow as a companion for things like broccoli, cabbage and cauliflower. It is said to keep pests insects away by obscuring the smell of the crop being protected by its "creme de menthe" aroma. Mice and rats are also said to dislike the aroma of this plant. This mint can be used in the kitchen the same as other mint varieties, and is the main flavour in the liqueur "creme de menthe". It's perfect to use in jellies, sauces, stir fries, salads, and a wide range of desserts.
6″ Pot. Bulk Buy of 12
Additional information
| | |
| --- | --- |
| botanical name | Mentha Requienii |
Mint 'Corsican' 6" Pot
| | |
| --- | --- |
| botanical name | Mentha Requienii |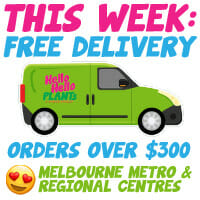 Browse plants by…
Search Products