Thymus 'White Creeping Thyme' 3″ Pot – Bulk Buy 20
Thymus serpyllum alba
White Creeping Thyme is a soft fine foliage groundcover giving off a pleasant aroma. In Summer it is covered completely with white flowers, creating a snow-like effect. This plant is a very versatile evergreen that will cover dry slopes, creep around other plants or work perfectly as a lawn substitute (to achieve a lawn like substitute, plant 6 per square meter).
White Creeping Thyme needs plenty of drainage to succeed and is very drought tolerant. Great for high traffic areas such as patios and garden beds. Very easy to grow and low maintenance.
3″ pot size. Bulk Buy 20.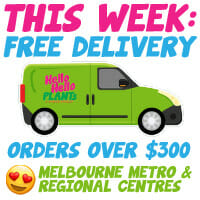 Browse plants by…
Search Products