Tomato 'Athens Deluxe' Greek Heirloom 3″ Pot
These big, sweet and flavourful tomatoes are a tasty beefsteak variety (large with think fleshy fruit). The seeds were lovingly collected in Greece many moons ago from a 700g tomato, and have been cultivated here in Melbourne ever since. Word got around in the family about these delicious huge tomatoes, and now we're excited to offer them for sale.
Similar to a 'Greek Rose' or 'Santorini' tomato, they produce huge fruit filled with flavour but low in seeds. Great for sandwiches.
3" pot size.
Temporarily Out of Stock. Please call (03) 9359 3331 to ask our staff for a suitable substitute.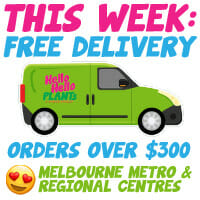 Browse plants by…
Search Products