Weeping Lilly Pilly 10″ Pot Bulk Buy of 10
Waterhousea floribunda 'Weeping Lilly Pilly'
Weeping Lilly Pilly has relatively fast growth and think, lush evergreen foliage. It provides year round interest and leaves are lance shaped with a wavy edge.
Older growth is a dark green, while new growth is lighter, some leaves with a pale pink tint. bunches of small perfumed white flowers are produced in Spring to mid Summer, followed by pale pink or whiteish berries that shed quickly.
10″ pot size, 50-75cm in height.
Additional information
| | |
| --- | --- |
| botanical-name | Waterhousia floribunda |
| height-x-width | 8-10m x 5-6m, or can be kept trimmed lower |
| planting-distance | For hedge or screen: 3m |
| features | Attractive weeping foliage with pinkish-red new growth and very shiny, fluffy white flowers in summer |
| conditions | Full sun to part shade in well drained soil, protect from heavy frosts when young |
| landscape-use | Specimens, screens, topiary, windbreak, |
Waterhousia 'Weeping Lilly Pilly' 13" Pot
| | |
| --- | --- |
| botanical-name | Waterhousia floribunda |
| height-x-width | 8-10m x 5-6m, or can be kept trimmed lower |
| planting-distance | For hedge or screen: 3m |
| features | Attractive weeping foliage with pinkish-red new growth and very shiny, fluffy white flowers in summer |
| conditions | Full sun to part shade in well drained soil, protect from heavy frosts when young |
| landscape-use | Specimens, screens, topiary, windbreak, |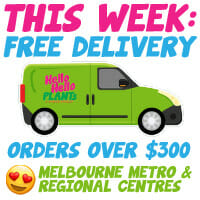 Browse plants by…
Search Products