A few years ago Chris was at movie world and off in the distance he thought he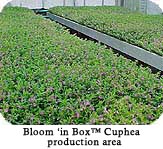 saw his favorite border BoxOz® Lonicera. As Chris got closer he couldn't believe his eyes it was covered in bright pink flowers. Once Chris got close he could see the hedge was actually a Cuphea or Mexican hedge that had been closely clipped. Chris knew that Cuphea had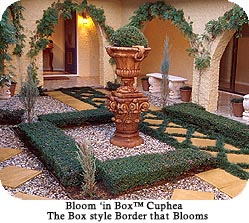 long been a popular small flowering shrub in Melbourne but was amazed to see how beautiful it looked as a formal flowering border.
There are many different cultivars of Cuphea and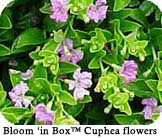 Chris set out to find one that would make the thickest and bushiest hedge and have an attractive coloured flower.
He eventually found a cultivar in a Queensland nursery that had a leaf almost as large as English Box and it had strong lateral growth so it would stay bushy on the sides when clipped hard. The cultivar also had a profuse flowering of fine hot pink flowers throughout the summer months.
Bloom 'in Box™ Cuphea

is t

he perfect

flowering border
Chris has proudly named his selection Bloom 'in Box™ Cuphea, and has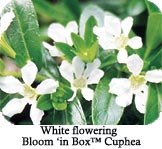 massed produced them by the thousands in 3" pots which are available in trays of 20 for $39.90. Bloom 'in Box™ Cuphea, Cuphea hyssopifolia (Mexican Hedge) will make the perfect flowering border in one full growing season, Chris recommends a spacing of 5 plants per metre.
New white flowering Bloom 'in Box™ Cuphea now available in trays of 3" pots for $39.90 per tray of 20 × 3" pots.
The garden bed should be well drained with good soil. Bloom 'in Box™ Cuphea are happy in full sun through to part shade and require regular watering and fertilising with Devotion™ Time Release Fertiliser and light trimming.