PRE ORDER: Iceberg Roses 3ft tall Only $29.90 each! Hurry Order Now 
That's right, 3ft Tall Iceberg Roses are only $29.90 each if you order them NOW before the 5th of Feb at which point they will be going up to $32.90 each.
Standard Iceberg Roses are the classic and traditional rose used in formal manicured gardens, cottage and even contemporary gardens.
Even the most uninformed gardener tends to recognize this rose. Because it is almost thornless, Iceberg lends itself to planting in public spaces and along walk-ways.
It has a very bushy and compact growth habit which makes the Iceberg Rose the ideal variety for budding it to a standard Rose understock. Hence the Standard Iceberg is one of the most popular variety roses in Australia.
Iceberg Roses also offer a cooling effect when you see it planted in a row with a green lawn or hedge around it and flowers unashamedly in all weather and all conditions. Take a look at some of these beautiful examples.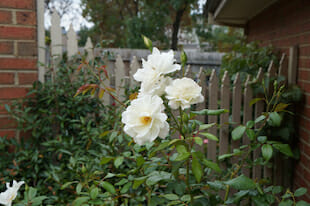 English Box $2.99 each when you buy 100 or more
The Iceberg Rose looks great but when it's planted with it's partner in crime the English Box, it looks even better. This classic duo combo works really well together as the white flowers pop from the lush dark green foliage of the English Box. It's also a very hardy combination with both plants thriving excellent in Melbourne's extreme 4 season days. You can see this combo in an abundance of individual plantings of the English Box and Iceberg Roses in many inner suburban gardens surrounding Melbourne.
6" pot English Box $3.99 each or buy 100 or more and they are only $2.99 each