Delivery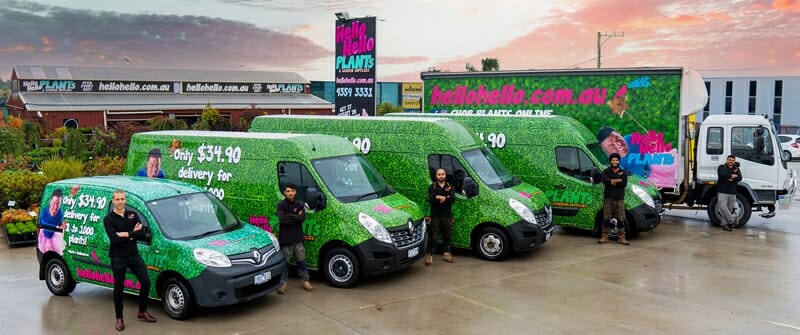 We do not ship to Tasmania, NT and WA.
If you can't get to us to pick up your new plants and garden wares, then delivery is for you. We maintain our own delivery fleet and offer a range of delivery and shipping options to make life easier.
$34.99 Melbourne Metro & Suburban Delivery
Deliveries are available to your door and cost only $34.99 within the Melbourne metro area, for 1 to 1000 plants. We deliver throughout the Melbourne metropolitan area every week.
To select Melbourne Metro & Suburban Delivery if you're purchasing online, simply fill out your delivery address in the Cart, and if we can deliver to your postcode, the option will appear. Select the Metro Melbourne delivery option. If you place a phone order with us, inform the salesperson you'd like delivery and they will sort out the rest!
Melbourne Metro & Suburban delivery extends from our location in Campbellfield to Mornington, Pakenham, Healesville, Whittlesea, Sunbury, Melton and Werribee!
Delivery to your door is still an option for many locations past these Melbourne Metro limits. However, they will incur a higher delivery fee depending on the location. To get a quote on delivery see Regional Door-to-Door, Wider Victoria & Interstate Plant Transport or give us a call.
For the sake of our drivers, we have to state that this is a cheap and basic delivery. We need to be able to leave the plants approximately 3 metres from where our delivery vehicles can park, and carrying them large distances such as down alleyways, up apartment blocks or across farming lots is not included in the price. If you need more help or have access problems, please phone us on (03) 9359 3331 and we can arrange extra assistance.
Click here to see if your postcode applies.
We're very pleased to expand our home delivery areas to include key regional centres including Ballarat, Geelong, Bendigo, Shepparton and Traralgon.
For more detailed information on the postcodes covered and delivery days, please visit the Regional Delivery and Routes page.
Wider Victoria & Interstate Plant Transport
There are several plant transport carriers who deliver plants throughout Victoria & interstate. Victorian and Interstate plant transport is organised by our Orders department. Please Contact Us for further details or to place an order.
This is an approximate cost for Freight delivery:
NSW about $300-$350 per pallet
QLD/ACT $400-$450 per pallet
The number of plants per pallet will depend on the pot sizes.
We are currently looking into using other delivery companies/options to provide you with cheaper freight delivery options in the future.
Postage
2″ and 3″ pots can be easily and securely packed and posted throughout Australia. Postage cost on 2″ and 3″ pots to anywhere in Victoria, South Australia, New South Wales or ACT is calculated automatically on the shopping cart page, and will only appear as an option if all of your items in your cart qualify for postage.
Click here to see all our plants in small pot sizes that can be posted.
We can also post other items – we've even posted our bare-rooted trees, carefully wrapped of course, with Australia Post on numerous occasions. These require a special arrangement, so for this, you'll need to Contact Us.
Australia Post currently has significant delays during the festive period, so plants can take 2 weeks to arrive which is a long time for them to go without light and water in a box, so by choosing postage as an option, some plants might not make it in transit.
Stock Availability – In stock and Out of stock
We have over 4000 products on our website in various pot sizes and we cannot physically store them all at our nursery. When a product is IN stock on our website, it means we either have it in store here or at one of our suppliers. Some products sell out quite fast and might be out of stock before we manage to update our website to reflect that. In such cases, we will notify you by mail.  Some orders require that we get the plants from our suppliers, which increases the delivery time by a couple of days.
Holding Yard
If you see a plant or plants that you are not equipped to take home or receive delivery for today, for just a small deposit we will hold them for you in our holding yard for up to two weeks. As we often have unbelievable specials, this is a good way to make sure someone else doesn't snap up those beautiful plants before you do.
Delivery Time frames
Delivery time frames and Click and collect pickups are currently 4-10 days, with a current average turnaround time of 7 days.  for Metro Melbourne and Regional VIC. We are constantly working on means of shaving this time down to get you your plants as soon as possible. Many of our staff are even volunteering to do a few deliveries on the way home from work to help out. Thank you to all our customers for their patience, and please remember our staff are doing their best.
Our Orders and Dispatch area handles all our delivery & pickup orders. We operate our own delivery service in-house using our own delivery vehicles.
Due to the high volume of orders during this time, we will often need to fulfil your order with plants and products from our suppliers as stock in the nursery can quickly run out. Your order is organised for dispatch once all plants in the order have been assembled and checked.
The following are our usual realistic delivery time frames:
Metro Melbourne Delivery: Within 4-12 business days (you will be notified of your delivery day)
Campbellfield Pick-up: Within 4-10 business days (you will be notified when your pickup is ready)
Geelong Area Delivery: Within 4-14 business days (you will be notified of your delivery day)
Australia Post: Dispatched within 4-16 business days (you will be notified when dispatched)
Regional Victoria: Dispatched within 5-21 business days (you will be notified when dispatched)
Freight: Dispatched within 14-21 business days (you will be notified when dispatched. We use outside freight companies, which are also experiencing a large number of orders and deliveries causing considerable delays across the country)
We always aim to get your plants to you as fast as possible.
It is advised that if you wish to get your order faster to opt for Campbellfield store Pick-Up.
Occasionally an extraordinary circumstance causes us not to meet these time frames, such as a real-estate giant buying all of our stock of a single variety in-store, meaning we have to call our mates and go to the extra effort to get it for you. You'll always be notified if anything will cause your order to be delayed.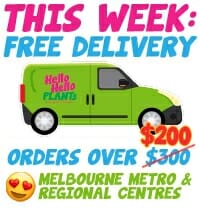 Browse plants by…
Search Products