Hello Hello Plants is announcing our own Garden Stimulus Package to make it easy for you to Keep Calm and Garden On in these unusual times.
Get free home delivery to Metro Melbourne and central Geelong, Bendigo, Ballarat, Shepparton and Traralgon, for 1 to 1,000 plants ??
You can shop online and once your cart total is above $̶3̶0̶0̶  $200 and you enter your delivery post code, you will be able to select your free delivery option. Or call us on (03) 9359 3331 to place an order over the phone.
This offer is only for the lock-down period, and while we can keep up with the demand. This is door-to-door delivery. If you require further assistance moving plants after delivery, please contact us to get a quote for additional assistance.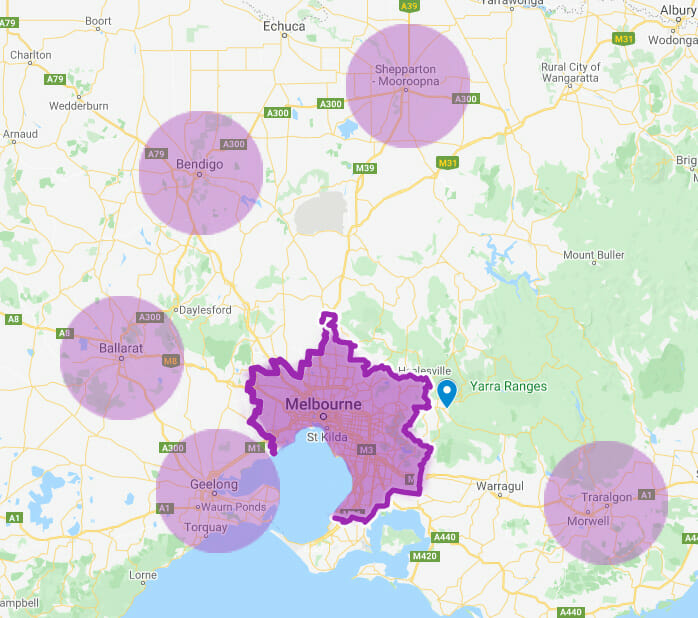 Free Plant Delivery Postcodes
Not sure if your suburb qualifies for free delivery? Check your postcode below to see which areas are included in this offer.
Metro Melbourne Free Delivery Postcodes
3810, 3809, 3809, 3808, 3808, 3807, 3807, 3781, 8873, 8865, 8785, 8627, 8626, 8622, 8576, 8557, 8538, 8507, 8500, 8011, 8009, 8006, 8005, 8004, 8002, 3977, 3977, 3977, 3977, 3977, 3977, 3976, 3975, 3975, 3967, 3957, 3945, 3938, 3930, 3930, 3910, 3806, 3806, 3805, 3805, 3805, 3804, 3804, 3803, 3802, 3800, 3796, 3795, 3793, 3792, 3791, 3789, 3788, 3787, 3787, 3786, 3782, 3775, 3775, 3775, 3775, 3775, 3770, 3770, 3770, 3767, 3766, 3765, 3763, 3763, 3760, 3759, 3758, 3758, 3757, 3757, 3757, 3757, 3757, 3757, 3757, 3756, 3756, 3756, 3756, 3756, 3756, 3755, 3754, 3754, 3753, 3752, 3752, 3751, 3750, 3695, 3689, 3619, 3552, 3502, 3438, 3437, 3437, 3437, 3434, 3434, 3434, 3434, 3432, 3431, 3429, 3429, 3428, 3427, 3409, 3409, 3353, 3341, 3340, 3340, 3340, 3340, 3340, 3340, 3340, 3340, 3340, 3340, 3340, 3338, 3338, 3338, 3338, 3337, 3337, 3337, 3337, 3335, 3335, 3207, 3207, 3206, 3206, 3205, 3204, 3204, 3204, 3204, 3202, 3201, 3200, 3200, 3199, 3199, 3199, 3199, 3199, 3199, 3198, 3198, 3197, 3197, 3196, 3196, 3196, 3196, 3195, 3195, 3195, 3195, 3195, 3195, 3194, 3194, 3194, 3193, 3193, 3193, 3193, 3192, 3192, 3192, 3192, 3191, 3190, 3189, 3188, 3188, 3187, 3187, 3186, 3186, 3186, 3185, 3185, 3185, 3184, 3184, 3183, 3183, 3182, 3182, 3181, 3181, 3181, 3180, 3179, 3178, 3177, 3177, 3175, 3175, 3175, 3175, 3175, 3175, 3174, 3174, 3174, 3173, 3172, 3172, 3171, 3171, 3170, 3170, 3169, 3169, 3168, 3168, 3167, 3166, 3166, 3166, 3166, 3165, 3165, 3164, 3163, 3163, 3163, 3162, 3162, 3162, 3161, 3161, 3160, 3160, 3160, 3160, 3159, 3159, 3158, 3156, 3156, 3156, 3156, 3156, 3155, 3154, 3153, 3153, 3152, 3152, 3152, 3151, 3151, 3150, 3150, 3149, 3149, 3149, 3148, 3148, 3148, 3147, 3147, 3146, 3145, 3145, 3145, 3145, 3144, 3144, 3144, 3143, 3143, 3142, 3142, 3141, 3140, 3139, 3139, 3139, 3138, 3137, 3137, 3136, 3136, 3136, 3136, 3135, 3135, 3135, 3134, 3134, 3134, 3134, 3133, 3133, 3132, 3132, 3132, 3131, 3131, 3131, 3130, 3130, 3130, 3130, 3129, 3129, 3129, 3128, 3128, 3128, 3128, 3128, 3127, 3127, 3127, 3126, 3126, 3125, 3125, 3125, 3124, 3124, 3124, 3124, 3124, 3124, 3123, 3123, 3122, 3122, 3122, 3122, 3121, 3121, 3121, 3121, 3121, 3121, 3121, 3116, 3115, 3114, 3113, 3113, 3109, 3109, 3109, 3108, 3107, 3106, 3105, 3104, 3104, 3103, 3103, 3102, 3101, 3101, 3099, 3099, 3099, 3099, 3099, 3097, 3097, 3097, 3096, 3095, 3095, 3095, 3094, 3093, 3091, 3090, 3089, 3088, 3088, 3088, 3087, 3087, 3086, 3085, 3085, 3085, 3084, 3084, 3084, 3084, 3084, 3083, 3083, 3083, 3082, 3081, 3081, 3081, 3079, 3079, 3079, 3078, 3078, 3076, 3075, 3075, 3074, 3073, 3073, 3073, 3073, 3073, 3072, 3072, 3072, 3072, 3072, 3071, 3070, 3070, 3068, 3068, 3067, 3066, 3066, 3065, 3064, 3064, 3064, 3064, 3064, 3063, 3063, 3062, 3061, 3060, 3060, 3060, 3059, 3058, 3058, 3058, 3058, 3058, 3057, 3056, 3056, 3056, 3055, 3055, 3055, 3055, 3054, 3054, 3053, 3053, 3052, 3052, 3051, 3050, 3049, 3049, 3049, 3048, 3048, 3047, 3047, 3047, 3046, 3046, 3046, 3045, 3044, 3044, 3043, 3043, 3043, 3042, 3042, 3042, 3041, 3041, 3041, 3040, 3040, 3040, 3039, 3038, 3038, 3038, 3038, 3037, 3037, 3037, 3037, 3036, 3036, 3034, 3033, 3032, 3032, 3032, 3032, 3031, 3031, 3030, 3030, 3030, 3030, 3030, 3030, 3029, 3029, 3029, 3028, 3028, 3028, 3027, 3026, 3025, 3025, 3025, 3024, 3024, 3024, 3023, 3023, 3023, 3023, 3023, 3023, 3023, 3022, 3022, 3021, 3021, 3021, 3021, 3020, 3020, 3020, 3020, 3019, 3019, 3019, 3018, 3018, 3016, 3016, 3015, 3015, 3015, 3013, 3013, 3012, 3012, 3012, 3012, 3012, 3012, 3011, 3011, 3011, 3010, 3008, 3006, 3005, 3004, 3003, 3002, 3000, 3911, 3912, 3931, 3933, 3810, 3814, 3335, 3337, 3930, 3938, 3978, 3001, 3007, 3810, 3810
Geelong, Bendigo, Ballarat, Shepparton and Traralgon Free Delivery Postcodes
3228, 3226, 3225, 3224, 3222, 3223, 3221, 3357, 3334, 3333, 3332, 3364, 3352, 3551, 3556, 3550, 3869, 3854, 3844, 3840, 3825, 3824, 3823, 3944, 3926, 3915, 3981, 3980, 3943, 3942, 3941, 3928, 3939, 3665, 3664, 3663, 3662, 3660, 3659, 3658, 3646, 3631, 3630, 3614, 3610, 3608, 3607, 3220, 3217, 3219, 3216, 3215, 3214, 3212, 3211, 3331, 3218, 3213, 3350, 3345, 3342, 3355, 3341, 3340, 3338, 3463, 3461, 3453, 3451, 3450, 3448, 3447, 3446, 3444, 3442, 3441, 3440, 3438, 3437, 3822, 3821, 3820, 3818, 3816, 3815, 3813, 3813, 3812, 3929, 3916, 3936, 3919, 3934, 3918, 3913, 3669, 3758, 3762, 3764, 3460, 3351, 3371, 3464, 3472, 3515, 3516, 3570, 3825, 3871, 3821, 3612, 3763, 3363, 3462, 3557, 3940, 3523, 3458, 3777, 3430, 3778, 3832