Archive for the 'Garden Ideas' Category
Comments Off

on June In the Garden!
June means that nearly half a year is over, and that winter is here for the next couple of months. It is starting to get really cold and we are getting more rainy days.  A lot of the deciduous trees are still shedding their leaves and some plants have slowed their growth down while others […]
Want to Ask the Tutu Guru?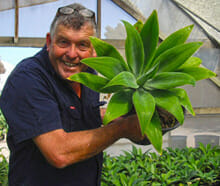 Simply visit our
Contact page
and submit your garden or plant question.
Recent Posts
BARE ROOT BONANZA!! YEEHAW!!
September 12, 2020

Father's Day 2020 in the Garden
August 29, 2020

September in the garden
August 27, 2020

August COVID-19 Update
August 3, 2020

August in the garden
July 31, 2020