How to Shop With Us
Hello Hello Plants offer 3 ways to shop with us.
ONLINE
You can now buy your plants directly from our online store with your credit card. Browse our selection of plants and other products, and choose the ones you need and how many, adding them to your cart as you go. You can adjust the quantities on the Cart Page, before finalizing and paying for your order. There's no need to create an account or register.
Payments are processed securely by Paypal, using your credit card. Paypal is one of the largest internet payment processing facilities in the world. There is no need for a Paypal account.
You can choose to pick up your order or have it delivered. See our Delivery page for more information on these options. There are freight options for you if you are an interstate or regional customer, but as these are arranged on an individual customer basis, it's probably best for you to place your order over the phone. You can also order online and then pay the additional freight cost afterwards once this is arranged.
Coupons
We often make special offers to our subscribers and customers, and these are usually in the form of Coupons. The coupon code provided is entered at the checkout. Sometimes this is for a free plant. Add the plant to your cart along with the rest of the order, then enter the coupon at the checkout to get it for free.
PHONE ORDERS
You can also order with us over the phone. Simply have your list of items and credit card ready and call (03) 9359 3331. One of our sales staff will process your order and organize delivery or pick up.
IN STORE
Our nursery in Campbellfield is open from 9am-5pm every day of the year except Christmas Day, stocked full of plants from the farm and other suppliers. Chris is there in person most days, and along with our sales staff, can provide garden advice from his years of experience in the plant business.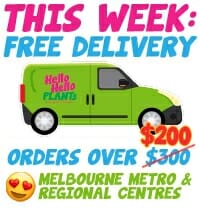 Search Articles