Cart
Please ensure you calculate and select your delivery/pickup option before proceeding by clicking "Calculate Shipping".
Your cart is currently empty.
Please note due to quarantine restrictions we cannot send plants to Tasmania, Western Australia, the Northern Territory or outside of Australia.
Updated Delivery Timeframes (COVID-19)
Due to the number of orders requiring delivery as well as plant shortages and longer supply times, there are some delays to our normal delivery times. That being said, we are delivering over 1000 orders a week and we will do everything in our power to get you your plants.
You will be notified on the day of your delivery, and also receive a text message with a tracking link when our driver is on the way to you. We deliver 7 days a week, so please advise a safe location to leave your plants if you are not available.
Metro Melbourne Delivery: Within 1-14 days.
In Store Pickup/Click and Collect: Within 1-10 days.
Regional Area Delivery: Within 2-14 days.
Australia Post: Dispatched Monday to Thursday within 1-10 days. Currently Australia Post is experiencing their own delays and we are doing our best to pack & wrap plants with plenty of love and water so that they reach you in good condition. You will be notified the day we post your plants.
Postage Size: We can only post 2″, 3″ and 6″ sized pots. 8″ pots can no longer be posted due to size limitations and other restrictions
We always aim to get your plants to you as fast as possible. You can note a preferred delivery day on the checkout page.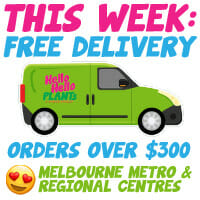 Browse plants by…
Search Products