Cart
Please ensure you calculate and select your delivery/pickup option before proceeding by clicking "Calculate Shipping".
Your cart is currently empty.
Please note due to quarantine restrictions we cannot send plants to Tasmania, Western Australia, the Northern Territory or outside of Australia.
Updated Delivery Timeframes (COVID-19)
Delivery time frames are increased to 7-16 days for Metro Melbourne and Regional VIC, with an average turnaround time of 10 days so far during August 2021. We are constantly working on means of shaving this time down to get you your plants as soon as possible. Many of our staff are even volunteering to do a few deliveries on the way home from work to help out. Thank you to all our customers for their patience, and please remember our staff are doing their best.
Due to the number of orders requiring delivery as well as plant shortages and longer supply times, there are some delays to our normal delivery times. That being said, we are delivering over 1000 orders a week and we will do everything in our power to get you your plants asap.
You will be notified on the day of your delivery, and also receive a text message with a tracking link when our driver is on the way to you. We deliver 7 days a week, so please advise a safe location to leave your plants if you are not available.
Our Orders and Dispatch area handles all our delivery & pickup orders. We operate our own delivery service in-house using our own delivery vehicles.
Due to the high volume of orders during this time, we will often need to fulfil your order with plants and products from our suppliers as stock in the nursery can quickly run out. Your order is organised for dispatch once all plants in the order have been assembled and checked.
The following are realistic guidelines for delivery time frames:
Metro Melbourne Delivery: Within 4-12 business days (you will be notified of your delivery day)
Campbellfield Pick-up: Within 4-10 business days (you will be notified when your pickup is ready)
Geelong Area Delivery: Within 4-14 business days (you will be notified of your delivery day)
Australia Post: Dispatched within 4-16 business days (you will be notified when dispatched)
Regional Victoria: Dispatched within 5-21 business days (you will be notified when dispatched)
Freight: Dispatched within 14-21 business days (you will be notified when dispatched. We use outside freight companies, which are also experiencing a large number of orders and deliveries causing considerable delays across the country)
We always aim to get your plants to you as fast as possible. You can note a preferred delivery day on the checkout page.
It is advised that if you wish to get your order faster to opt for Campbellfield store Pick-Up providing the 5km limit that is in effect is -adhered to as per State Government instructions.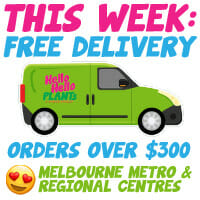 Browse plants by…
Search Products