Osmocote Controlled Release Fertiliser: Fruit, Citrus, Trees & Shrubs 500g
A no-fuss, set and forget controlled release plant food for those who don't have the time or inclination to tend every plant or garden bed individually. The smart way to fertilise – one application feeds continuously for up to 6 months.

• Contains 6 months feed
• Plus trace elements
• No surge growth
• For use with houseplants
Features
Boosted magnesium keeps leaves green for longer, especially on citrus
The release of nutrients depends on temperature – more when it's warm and plants are growing and less when it's cold and growth is slow
Scotts Osmocote® uses advanced prill technology that ensures even and controlled nutrient release with no wastage Controlled release means feeding less often and more effectively; less frequent feeding is more economical and environment-friendly
Wetting agent enhances water absorption into the soil or potting mix and helps plants take up nutrients
Less than 2% phosphorus (the 'P' in NPK) means it can be safely used on most Australian native fruit trees such as Davidson's Plum, Finger Limes and Quandongs
SUITABLE FOR
Evergreen and deciduous ornamental trees and shrubs, shrubs, climbers, vines and grasses
Fruit trees including citrus, stone fruits, apples and pears, grapevines and berries
Potted foliage and fruiting plants including dwarf, espalier and columnar fruit trees
Safe to use on new plants – the controlled release of nutrients means it will not burn soft leaves or tender young roots
Size 500g
Temporarily Out of Stock. Please call (03) 9359 3331 to ask our staff for a suitable substitute.
Email when stock available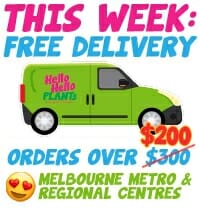 Browse plants by…
Search Products