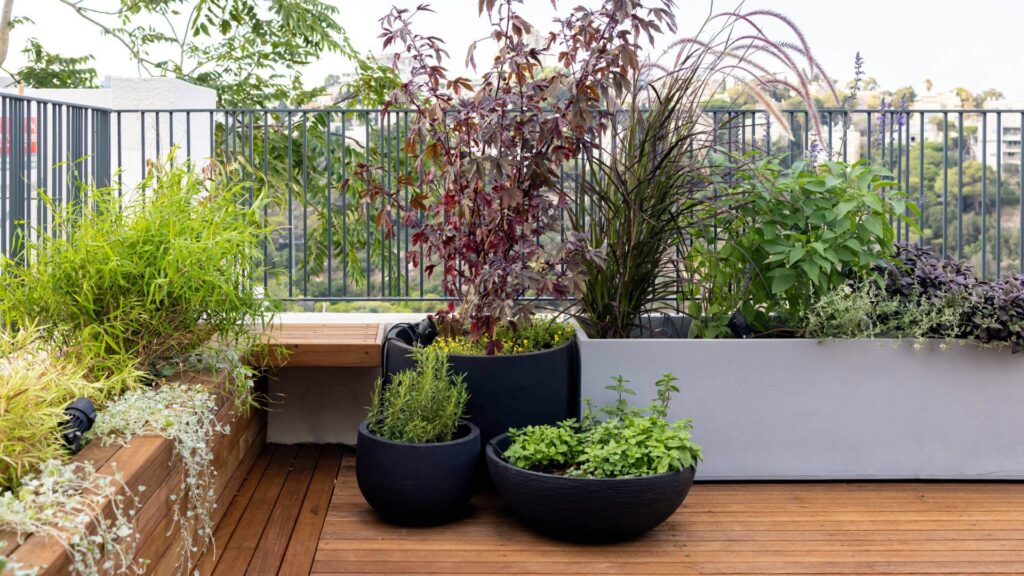 High-rises and apartment blocks are becoming the norm in inner city Melbourne and as the living conditions are getting more cramped, so to are the gardens. A little balcony oasis in the middle of the city smoke freshens up the apartment, blocks the sounds and smells of the street, and creates a paradise right outside your window.
How big or small the garden is depends on how much time you have to maintain it, if your apartment building has restrictions, the balcony has weight issues or how much watering you're able to do. Check where the water flows and drains, your downstairs neighbour might get a regular flooding if you need to water regularly!
Key Features
Grown in pots, tubs and planter boxes, preferably in water-saving pots
No trees or trees that don't grow large! Pots can restrict their growth but most trees don't like to be forced to grow in small spaces
Wind, heat and/or shade tolerant plants – balconies can be harsh environments
Plant stands, logs, wood rounds, hanging and banister pots (so long as it isn't windy!)
A chair or outside couch, outdoor rug or fake lawn, and cushions if need be
Wall garden
Fairy lights, lanterns or garden art
Maintenance
Low to high maintenance all dependent on how big or small you make the garden. Regular watering and feeding is required as the entire garden is in pots and planters, relying entirely on you for everything they need. If you've chosen bushy shrubs or larger trees, regular pruning will also be required to keep them in check.
Tools
Watering can, trowel, hand fork, gardening gloves, dustpan and brush, secateurs, lopers (for larger plants), spray bottle (pesticides and cleaning leaves)
Showing 1–40 of 124 results