Cottage
Over the centuries many an artist has been inspired, painted or written of the cottage garden. Planting a cottage garden is perhaps the simplest flower garden of all. The style is informal and personal, the emphasis being on the pleasure of growing plants and enjoying their flowers, form, fruit and scent throughout the seasons rather than attending to regimented borders and maintaining immaculate lawns.
A mixture of many plants can be used in the cottage garden including trees, shrubs of all sizes, groundcovers, climbers, vegetables, fruits and herbs.
Cottage gardens have a country feel, when making the garden place the taller plants at the back and fill the front areas with staggering heights. Plant the shrubs close together so there will be minimal room for weeds to grow. If you have large garden consider making paths through the flowers with stepping-stones, gravel or mulch and edge the paths with low growing flowers such as alyssum or lobelia. Add in water features such as ponds and birdbaths for a relaxing touch and for a romantic feel place benches on the edges of the garden and put arches and arbors planted with climbers over the paths.
No products were found matching your selection.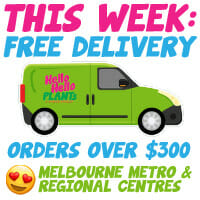 Browse plants by…
Search Products