Acer 'Osakazuki' Japanese Maple 20″ Pot (Freshly potted)
Acer palmatum
Osakazuki Maple is a large bushy deciduous shrub. The foliage this shrub bears is green but turns to a brilliant orange-scarlet in autumn.
Osakazuki is best placed in a position of partial or full sunlight and moist but well drained soils. Grows to a height of 2-4 meters. This shrub requires low maintenance once established. Ideal as a focal point of the garden.
20"/50cm pot
FRESHLY POTTED – This product has been re-planted into a larger pot as it has outgrown its previous pot. Soil may fall away easily from the root ball when planting but not to worry! Just be delicate with any new roots forming when planting.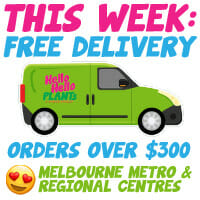 Browse plants by…
Search Products