You cannot add "Akebia 'Chocolate Vine' 8" Pot (Hanging Basket)" to the cart because the product is out of stock.
Adiantum 'Maidenhair Fern' 8″ Pot (Hanging Basket)
Adiantum fragrans
Maidenhair Fern is the most loved or at least it is the most grown of all ferns. They are popular due to their quaintly delicate leaflets, and for their soft shiny stems. The fragile appearance of a maidenhair fern with its gentle, green colour, adds a lushness and a cool look to any setting. Not only a great indoor plant, maidenhair also works in cool outdoor areas. It is actually in hanging baskets that this fern gains its popularity.
Please call to confirm availability (03) 9359 3331 or place your order before attending the nursery to avoid disappointment.  
Hanging Basket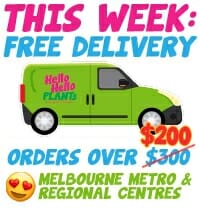 Browse plants by…
Search Products