Hedera 'English Ivy' 8″ Pot
Hedera helix 'English Ivy'
*Freshly Potted Special*
English Ivy is an easy fix to unsightly or boring fences. You can create a lush green living "tapestry" by letting this climbing darling do it's thing. It has little feet and roots that help the plant adventure unassisted, but you can guide the plant by putting up wires or trellis if you like. As this beauty has lovely long vines, it also looks great in hanging baskets too!
English Ivy is not only pretty, but tough and can grow in full sun to shade. The only dislike it has is standing in puddles! So don't plant in waterlogged soil.
Keep an eye on this little mountain climber, because without regular trims it may can get out of hand.
Spreads approximately: 3 Meters
FRESHLY POTTED – This product has been re-planted into a larger pot as it has outgrown its previous pot. Soil may fall away easily from the root ball when planting but not to worry! Just be delicate with any new roots forming when planting.
8″ pot size.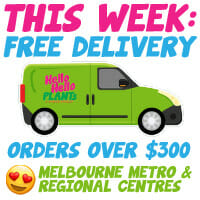 Browse plants by…
Search Products