Strobilanthes Goldfussia 8″ Pot
Strobilanthes Anisophyllus "Gold Fussia"
Gold Fussia is a hardy, evergreen shrub growing to around 1.5 meters tall. It has shiny, dark green leaves of unequal size, which are stained blackish purple on both sides.
The flowers are mauvein colour and appear in spring, and intermittently throughout the year. This plant is best suited to warm, humid parts of Australia.
FRESHLY POTTED – This product has been re-planted into a larger pot as it has outgrown its previous pot. Soil may fall away easily from the root ball when planting but not to worry! Just be delicate with any new roots forming when planting.
8″ pot size.
In stock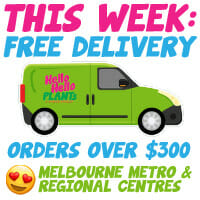 Browse plants by…
Search Products