Prunus 'Cherry Laurel' 12″ Pot
Prunus laurocerasus 'Cherry Laurel'
Cherry Laurel is a large evergreen shrub or small tree has deep green leaves that are large, leathery and oblong with bright green shiny upper surfaces. The veins are distinctly yellow. It has strongly scented tiny creamy white flowers that appear in Spring.
Cherry Laurel is an attractive and useful addition to the landscape. This plant is shade tolerant and makes an excellent dense hedge. Prefers well-drained moist soil.
12″ pot size.Approximately 1.6m tall.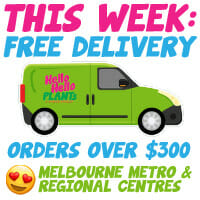 Browse plants by…
Search Products