Strawberry 'Karl's Super Sweet' 6″ Pot
Fragaria × ananassa
Karl's Super Sweet strawberries are a family favourite that we are selling to the public for the first time. As their name describes, they are super sweet!
Karl was an incredibly skilled horticulturalist and a family friend. In his retirement, he was determined to develop the sweetest strawberry for his daughter, a berry grower. Chris says if you visited Karl, he had pots and pots of strawberry plants at his place. He would taste a huge number of strawberries, and year after year save the seeds from the sweetest and best tasting ones. And as a result, Karl's Super Sweet Strawberries were born.
Most strawberries you buy from the supermarket are bred for durability and appearance, NOT taste. Karl's Super Sweet Strawberries have white tops when ripe, but the white parts are still sweeter than the best supermarket strawberry. The berries are small to medium size and full of flavour. They will produce runners which you can use to reproduce your strawberries for future years and enjoy a great crop.
6″ pots.
Temporarily Out of Stock. Please call (03) 9359 3331 to ask our staff for a suitable substitute.
Email when stock available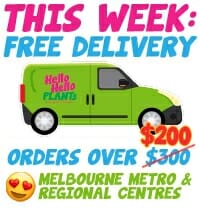 Browse plants by…
Search Products