Sophora 'Weeping Pagoda Tree' 16″ Pot
Sophora japonicum pendula
The Weeping Pagoda tree, known sometimes as the Weeping Japanese Pagoda tree or the Weeping Chinese Scholar, is a beautiful ornamental tree of small size. Its branches droop delicately, and sometimes as they grow they twist, adding yet another aesthetic appeal. The leaves have a light-coloured almost feathery appearance from a distance, and they turn a pretty yellow before they fall in the Autumn.
These Weeping Pagodas are grafted varieties with a tall straight main trunk. This means they will not grow beyond a total height of roughly 8-9ft. Perfect for a small garden. Loves full sun and well-draining soil.
These trees are commonly grown in Northern China at the entrance of temples because of their graceful weeping habit. They are extremely hardy plants that can tolerate wind, frosts, heat and droughts. These are perfect weeping trees for harsh conditions where other weeping trees would not grow.
16"/40cm pot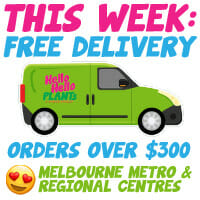 Browse plants by…
Search Products