Buxus 'English Box' 8″ Pot
Buxus sempervirens
English Box is Melbourne's most popular low hedge or border. It has dense dark green foliage, and when trimmed into a hedge or topiary it has a clearly defined shape. English Box hedges and topiary create a truly traditional formal style garden.
The advantages of English Box hedge and border is that it only requires one or two trimmings per year. It needs very little water and it grows in almost any soil except for a very heavy or poorly drained soils. This slow growing plant grows to approximately 1.5m in height. It is shade tolerant. Plant 5 per meter for a low hedge and 4 per meter for a taller hedge.
8″/20 pot size.
Please note: During Winter, it is common for discolouration on the foliage of English box. It is due to severe frosts, where our products are grown in the coldest parts of Victoria. They will sort themselves out in Spring, however if it does bother you, please treat with Dolomite Lime, and a slow release fertilizer a month later.





Additional information
| | |
| --- | --- |
| botanical-name | Buxus sempervirens |
| height-x-width | Up to 1.2 metres, or trimmed lower |
| planting-distance | For border: 5 per metre For low border, 3 or 4 per metre For taller hedge |
| features | Traditional slower growing neat hedge or border with glossy oval dark green leaves |
| conditions | Full sun to part shade, moist well drained soil |
| landscape-use | Hedges, borders, topiary, mazes, containers and general garden planting |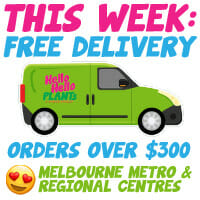 Browse plants by…
Search Products