Anigozanthos 'Big Red' Kangaroo Paw 6″ Pot
Anigozanthos "Big Red"
Big Red Kangaroo Paws are a large growing bright red variety that bloom from Spring through Autumn (nearly year round along the coast).
Kangaroo Paws in general are classic native Aussie gem, and have all the features of a great plant. They're vigorous, hardy, low maintenance, flower in the warmer months and attract birds to the garden. Kangaroo Paws can grow to 1.5 meters tall with flower stems, which can be used for cut flowers around the home.
Kangaroo Paws suit mass planting. Plant a large clump of one colour, or alternate different varieties for an interesting effect.
6″ pot size.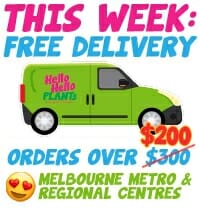 Browse plants by…
Search Products