Lomandra Wingarra Gem 6″ Pot
Lomandra Wingarra has large deep rhizomes, making it tougher. It has fine textured, blue-green foliage and a compact clumping form. Small yellow flowers appear from September to November. Looks like a grass, but rarely needs trimming and is extremely low maintenance.
It grows to about 30 cm high x 30 cm wide and prefers a full sun to part shade position. Tolerates humidity, drought and frost. Wingarra Lomandra suits sandy, sandy loam to clay soils.
6″ Pot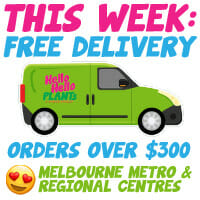 Browse plants by…
Search Products