Senecio 'Wax Vine' Variegated
Senecio macroglossus variegatus
The cool indoor plant you didn't know about! A twisty, trailing vine with pretty purple stems and glossy dark green foliage with cream-coloured variegation around the edges and along the veins. Single, yellow, daisy-like flower heads are borne in summer. An awesome climber (up to two meters) but also looks great in hanging baskets.
They like indirect or filtered bright sunlight. Variegated ivy leaves will burn if placed in direct afternoon sunlight. Variegated ivy will do best on a window sill.
Please call to confirm availability (03) 9359 3331 or place your order before attending the nursery to avoid disappointment.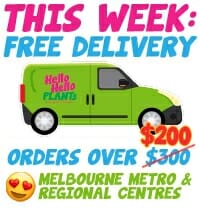 Browse plants by…
Search Products