View cart
"Rose 'Iceberg' Climbing" has been added to your cart.
Epipremnum 'Devil's Ivy'
Epipremnum aureum 
'Devils Ivy' is one of the most highly sought after indoor plants, and for good reason too! This lovely specimen is not only beautiful (with its gorgeous marbled leaf print) but it's tough too, it can tolerate poor lighting and erratic watering.
'Devils Ivy' grows like a waterfall, it's heart shaped leaves cascading out of its pot or hanging basket.  A versatile plant, it can be grown up a trellis or wrapped up a totem pole.
This plant enjoys a well lit room with no direct light and prefers to be watered after the top layer of potting mix has dried out.
If left untrimmed, grows approximately: 2 meters long.
Please call to confirm availability (03) 9359 3331 or place your order before attending the nursery to avoid disappointment.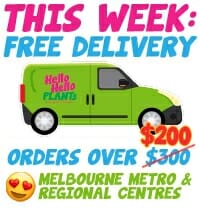 Browse plants by…
Search Products