Ficus hillii 'Flash' 16″ Pot
Ficus microcarpa hillii 'Flash'
Ficus hillii 'Flash' is an extremely versatile garden plant. Ficus create a fast evergreen hedge or screen to block out an unsightly fence or the even the neighbours! It is also used quite frequently as a standard topiary. Ficus can also be kept in pots or let grow as a large, evergreen shade tree. Its stunning emerald green foliage suits a formal garden and, as it has little to no flowers it creates almost no mess!
Ficus hillii 'Flash' really shine when they are pleached. This is when the lower branches and leaves are removed, leaving a straight trunk with dense foliage along the top. This method allows space for a layer of mulch, stones or smaller shrubs to be planted underneath.
Tolerates full sun to part shade and dry periods. Grows best in loose, well draining soil with adequate water in the summer season. Does not tolerate frost.
16″ pot size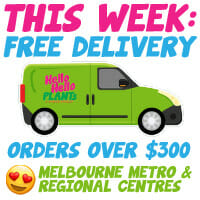 Browse plants by…
Search Products